Andromeda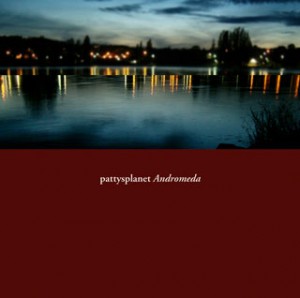 Tracklist:
01 Luna
02 Too Long (free mp3!)
03 Footprints
04 Signs of Time
05 Visitors
06 Essay on a Silent String
07 Bioley 'ndisha
08 Impressions
09 Still Follow
10 Ode to Saturn
11 Maybe (mizati Remix)
12 Finding Home

Total play time: 54:53
Music, Lyrics, Vocals, Saxes, Electronics, Programming, Producing & Mix by Patty Stucki
Remix of "Maybe" by mizati (mizati.de)
Recorded 2002-2006 @ pattysplanet bedroomlab, Cologne
Mastered by Robert Babicz, Cologne (robertbabicz.de)
Artwork by Daniel Knef, Koblenz (gran.code23.de)
Released 2006 @ Elektro-Kartell Germany.
Bestellen / Order
USA:


order from CD-Baby
D/CH/Europa:
Die CD gibts auf Live Konzerten, oder per email.

für 12 Euro zzgl. Versandkosten.
sowie über aentitainment
Presse
"Sounds aus Sternenstaub, Vocals wie vom Himmel" (KEYS 2007-02)
"Von irgendwo her zwischen Südmars und Erde … " (SONIC SEDUCER 2007-02)
""Andromeda" verknüpft Science-Fiction und Märchen-Mädchenromantik, Torch Song und Electronic Listening. Trip ohne Hop in Formvollendung – als würden Kate Bush, Tori Amos und Beth Gibbons jetzt bei Coloma singen." (SOUND & RECORDING 2007-03)
" Hier verschmelzen elektronisches Songwriting, grooviger Trip-Hop, eine tolle Stimme sowie allerhand weitere Finessen zu einem eigenständigen Sound … " (VISIONS.DE 2007-03)
©
pattysplanet
[1999-2010]
pattysplanet ist member der vereinten planeten